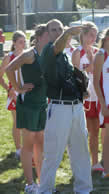 Other Favorite Links:
Storefront for all of my books
Richland High School (my Alma Mater)
About the Author
Coach David L. Rockwood has been coaching Track and Field and Cross-Country since 1996, specializing in training the sprints, jumps, relays, and distance runners. In that time he has been a part of many successful teams including six top 4 finishes in the Utah State Championships (two State Championship teams, two State Runners-up teams, and two 4th place teams). Rockwood is a certified Level 1 coach through USA Track & Field and is certified through the American Sport Education Program. Rockwood is also one of the All-Star coaches for Utah high school track & field. His responsibilities include helping to select, preparing, and coaching high school track athletes to represent Utah in the prestigious Great Southwest Track & Field Classic.
As a coach, Rockwood is known for being enthusiastic, knowledgeable, and goal oriented. He considers himself to be a student of the sport and therefore is always trying to apply new techniques into his program. Much of his coaching success is due to his knowledge of the sport and the sport psychology principles that he teaches to his athletes.
Coach Rockwood has a B.S. in Psychology from Brigham Young University (2003) and an M.Ed. in Instructional Design & Educational Technology (Educational Psychology) from the University of Utah (2008). He teaches Psychology, Philosophy, and Sport Psychology at Payson High School, Utah, where he has been cited multiple times in Who's Who Among America's Teachers, and nominated for Payson High's Teacher of the Year and Crystal Apple awards. He has also presented some of his innovative teaching ideas at the UTOPSS (Utah Teachers of Psychology in Secondary Schools) annual conference and the UCET (Utah Coalition for Educational Technology) conference.
When he began teaching Sport Psychology, he realized there were no textbooks or teacher resources for a high school level course. Subsequently, he created a curriculum from scratch and built a strong Sport Psychology program. After teaching and tweaking the course for several years, he decided it was time to write this book. It is his hope that this resource will advance the teaching of sport psychology in high schools.
He is married to April and they have two beautiful daughters. Rockwood enjoys reading, writing, running, movies, rock climbing, canyoneering, and practicing Wing Chun Kung Fu.